Return to School
This page is dedicated to keeping families informed about what is happening at St. Pius X High School as we start the 2020-2021 school year. Check back here frequently for updated information.
Frequently Asked Questions
First and foremost, we are incredibly grateful to all of you for your continued support of St. Pius X High School and our mission and commitment to a Dominican education: Prayer, Study, Community and Preaching. We thank you for your efforts that contributed to the success of the distance learning program last semester. Of the 166 families who responded to our school-wide survey, 142 were satisfied to very satisfied with their student's experience of distance learning. Thank you for working with us through a new, unexpected and challenging situation that developed quickly. We are indebted to our faculty and staff for pivoting and creating new ways of teaching so that SPX students could continue learning. We are genuinely thankful for the continued support and involvement of you, our parents, alumni and friends! You are the people who made the spring of 2020 work for our kids!
It is now time to move forward and optimistically look toward the 2020-2021 school year. Our plans are to safely welcome your sons and daughters back to campus for in-person, on-campus learning. We hope to welcome them back to campus for sports, theater, choir, band, and all of the activities that engage your students in the SPX community.
And, as we say this, we are fully aware that there are many factors beyond our control that will force us again to be called upon to find different ways of successfully teaching, meeting the myriad needs of our students, and building the SPX community. A team of administrators, teachers, and staff members have worked tirelessly to determine valuable and viable scenarios, which will meet the needs of our students setting priorities for their health, safety and learning for the 2020-2021 school year.
Return to School Task Force
Immediately following graduation, a task force was created to collect information and make recommendations regarding the continued success of your students' educational experiences. The teams are made up of administrators, faculty and staff members with specific expertise and knowledge. They are collaborating with public health experts and other educators, and utilizing guidelines from the state, other government and health official organizations, and TEA to form plans for the 2020-2021 school year. The teams and their responsibilities are below.
Academic Continuity Team – Evaluate the past three months of instruction and delivery, assess physical needs based on educational, local and state guidelines, and prepare academic instructional models.
IT Continuity Team – Evaluate how the Information Technology systems responded to off-campus learning and prepare systems for various instructional models to begin in August.
Plant Continuity Team – Evaluate the health and safety needs moving forward based on educational, local and state guidelines establishing protocols and policies for faculty, staff and students to safely and productively return to campus.
Community Integration Team – Evaluate how SPX maintains the feeling of community and continues to communicate and live our mission with our faculty, staff and students. This team specifically looks at community life (athletics, activities and overall sense of belonging) and how to ensure students feel a continued sense of belonging and engagement
Five Tiers of Interaction
We anticipate five tiers of interaction that students may cycle through during the 2020-2021 school year:

Tier 1: Your child and all faculty and staff are on campus with minimal safety precautions
Tier 2: Your child and all faculty and staff are on campus with moderate safety precautions
Tier 3: Your child and all faculty and staff are on campus with maximum safety precautions
Tier 4: Your child and all faculty and staff are partially on campus with maximum safety precautions in small-group cohorts rotating between in-person and distance learning
Tier 5: Your child is engaged fully in remote learning with only essential staff allowed on campus
Returning to School: Three Models
The administration with the Return to School Task Force, is working to create a school calendar and daily class schedule that will allow for full flexibility and engagement. We do not anticipate major changes to our published date for the beginning of the school year, the end of the school year, and scheduled breaks, but these plans are subject to change as health needs change in our world. We do anticipate looking to three different models for school in 2020-2021 and are building the capability to switch quickly from one model to another, as needed and required.
Model A: All Students, Faculty and Staff (Tiers 1-3)
In Model A, all students, faculty and staff return to campus in August. Specific health precautions will likely be in place in accordance with local, state and federal requirements and could include:
Daily temperature checks for all faculty, staff and students
Wearing masks that cover the mouth and nose, except when eating and drinking
Enhanced cleaning and disinfecting procedures
Procedures for moving through hallways and stairwells to maintain effective physical distancing
Reducing or eliminating shared materials and high-touch surfaces
Redesigning large community gatherings such as assemblies and all-school Masses
Volunteers and visitors welcomed back on campus, as conditions allow
Model B: Hybrid Learning (Tier 4)
In Model B, a portion of our community will be on campus while others learn remotely from home for reasons that may include:
Limiting the number of people allowed on campus at one time to reduce COVID-19 transmission factors
Students, faculty and staff uncomfortable returning to campus due to personal risk factors
Students, faculty and staff in quarantine or isolation for reasons associated with COVID-19
Model B is characterized by hybrid learning through an interactive block schedule that focuses on synchronous learning for all students. Some students will physically be in the classroom, while others learn from home. In this model, students at home and in the classroom will receive the same lessons at the same time; students will have the capacity to interact with each other and the teacher through the use of technology. Students who are at home will be expected to log-in and participate during real class time. In Model B, students who are on campus will be expected to follow the same safety precautions listed in Model A, including wearing masks that cover the mouth and nose, except when eating and drinking.
Model C: Campus Closed, Distance Learning (Tier 5)
It is possible that there will be times during the school year when campus must be closed because of public health recommendations and forced closures. We are fully prepared to transition to distance learning when necessary. We have reflected and analyzed the feedback from students, faculty, and parents from the spring semester and are instituting improved technology, lesson planning, and community engagement, to make future distance learning an exciting and viable experience for your sons and daughters.
Commitments
While our plans for the 2020-2021 school year may evolve as conditions and guidelines in our community change, our commitment to our St. Pius X community remains steadfast.
The health and safety of our community is our highest priority.
We will optimize our resources to provide your child with the best possible learning experience without interruption of the college preparatory education you can and should expect from SPX.
We will continue to provide timely communication as conditions evolve in our city, county, and state.
We sincerely thank you for partnering with St. Pius X High School in the education and formation of your sons and daughters.
May you always be abundantly blessed,
The SPX Leadership Team
Dear St. Pius X Families,
In response to COVID-19, the Texas Education Agency (TEA) and The Center for Disease Control (CDC) have provided specific guidelines for Texas schools. While St. Pius X High School, a private, faith-based school, is not directly guided by TEA, we are expected to develop and follow plans that are "similar" as per Governor Greg Abbott. In an effort to create a school where we can provide an excellent academic environment, we must take measures that will reduce exposure to illness for our students, faculty and staff.
After careful consideration, deliberation, and prayer, St. Pius X High School leadership determined to start classes on August 17 in a distance learning model. During distance learning, SPX leadership will continue to assess the situation using the guidance of local and state health officials. It is our intention and hope to return to in-person learning in a hybrid model on September 8.
Guiding Principles
The COVID-19 pandemic has created an unprecedented health crisis for schools in our city, state, country, and world. As we plan for the 2020-2021 school year, the health and safety of our students at St. Pius X High School is our top priority. We are committed to bringing students back to our campus and providing a safe place for them to grow spiritually, academically, and emotionally. The uncertainty of these times does not change the mission of St. Pius X High School.
OUR MISSION:
Prayer, Study, Community, Preaching - this is a Dominican education at St. Pius X High School. Inspired by Veritas, young men and women embrace academic excellence and integrity, celebrate the community's diverse gifts and heritage, and embody social justice and service.
OUR GOALS:
Prioritize the health and safety of students, faculty, staff and school community
Use research-based data to develop, implement, and enforce best practices in the area of health and education
Promote campus practices and policies that reduce the risk of virus transmission and provide flexibility as we respond to unknown variables
Respect and follow the authority of local and state guidelines and orders
Models of Learning
It is important that we find a way to gather with our students in the safest way possible and begin building relationships that are integral to student success. We will host in-person orientations and re-orientations for each grade level. While remaining physically distant, these sessions will encourage our students to connect and reconnect with faculty, staff, advisors and friends. We will celebrate a new year and a new way of being SPX strong.

Below are the scheduled days for each grade level orientation. More details will be released, including the option to attend orientation virtually, as we draw closer to the dates.
August 11 - Senior Class
August 12 - Junior Class
August 13 - Sophomore Class
August 14 - Freshman Class
Beginning August 17, all SPX students will participate in synchronous, distance learning. We have invested in cutting-edge technology that enables more engaging and interactive instruction and learning. The entire SPX community will be on campus meeting the needs of our students, their families and supporting one another.
Distance Learning Schedule
Monday/Thursday
Odd Block Classes
Synchronous Learning
Community Time
Tuesday/Friday
Even Block Classes
Synchronous Learning
Advisory
Wednesdays
All Classes
Asynchronous Learning
Community Time
Students will be able to schedule tutorials with faculty members by appointment.
Please click on the graphic below for a more detailed view of the distance learning schedule.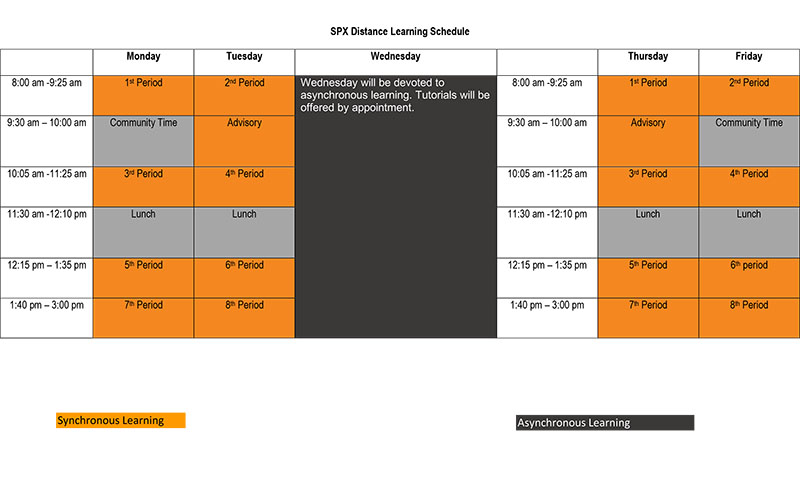 Synchronous and Asynchronous Learning
Synchronous Learning - Whether on campus or in the virtual classroom, students are in class at the same time and experiencing the same lessons together. Students will be able to interact with their teachers and each other through Microsoft Teams throughout the class period.

Asynchronous Learning - Students will review posted lessons in all classes, working at their own pace to complete assignments.
Student Expectations During Distance Learning
All students must have an approved device as defined by the BYOD guidelines
Students must be logged into their classes by the start of class.
Cameras and microphones must be on and functioning.
Students must wear an SPX uniform shirt or approved SPX t-shirt.
Students must actively participate in class with their classmates and teachers.
More detailed information and guidelines will be distributed with the Student/Parent/Guardian handbooks during orientation.
Technology
Using Microsoft Teams as a platform with our new technology, Swivl, every classroom will be equipped with video and audio capabilities to create a synchronous learning experience. During distance learning, all students will log into their Microsoft Teams account and interact with their teacher, teaching from the classroom, in "real time."
When moving to hybrid learning, students not on campus, will log into their Microsoft Teams account and share an identical experience with those in the classroom. Teachers will be able to see both students in the classroom and learning remotely. Students not on campus will experience and interact with everything happening inside the classroom.